Mitchell — Tom Patzer has seen it over the last 40 years in his woodworking business.
From devastating floods that destroyed equipment and wreaked havoc on facilities, to fires and pandemics, Patzer has faced many challenges that will test his will to succeed as a local business owner. But whenever big obstacles are thrown in front of him, Patzer always finds a way to overcome them.
His ability to face adversity has helped Patzer Woodworking reach a 40-year business milestone this year. Thursday was the time to celebrate that milestone at Patzer's new-looking facility, where he was submerged in more than a foot of water just three years before he was.
"But we are standing stronger than ever," said Patzer of the past three years as he grapples with flood recovery efforts and supply chain battles resulting from the COVID-19 pandemic. increase.
It puts a big smile on Patzer's face when he looks back at how far Patzer Woodworking has come since its inception in 1981, when a small garage was an office and production facility.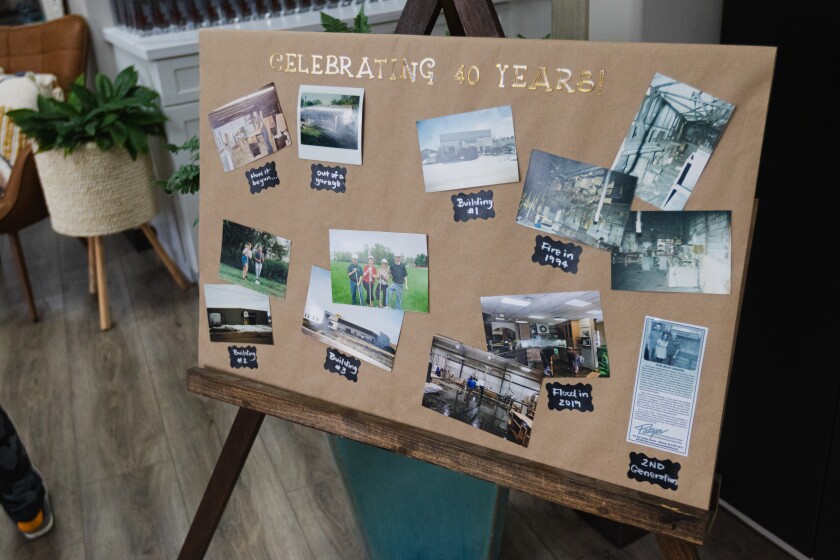 As Patzer put it, embarking on a woodworking business venture was a "leap." In the early 1980s, his friends were questioning whether he would be able to stay in business for more than a few years, and banks were reluctant to provide him with the loans he needed to start his own business. . .
"I had some friends who said they would wait two years for me to go out of business. said Patzer. "I found a bank in Mitchell and they gave me a loan, and I thought they really believed in me. It worked, so I'm glad they did."
What began as a one-man woodworking operation in a 650-square-foot garage is now supported by more than 20 employees manufacturing custom cabinets and countertops in a 32,000-square-foot facility in downtown Mitchell. increase.
"I am blessed to have a wife who has been by my side from the beginning," he said of his wife Sherry Patzer.
After making a name for himself as a talented cabinet and countertop craftsman, Patzer began welcoming large-scale commercial work. Winning Avera Health and Puetz Construction as customers was a proud moment for Patzer.
Seeing the business thrive brought back many fond memories for Patzer, but seeing son Ryan Patzer and daughter Amanda Nepple join the team was "the most rewarding experience" for the business's founder. One of my proudest moments." With Ryan and Neppl's decision to work for the company, Patzer Woodworking has now become a family-owned business for generations. This is Tom's dream since he started his journey.
"I always thought Ryan would be back here, but I never thought Amanda would be back. Lucky for you," said Tom.
Together, the brother-sister duo oversees commercial projects, design work, and client relationships. The addition of Ryan and her Neppl proved successful as business expanded into neighboring states such as Iowa, Wyoming and Minnesota.
Patzer has dealt with a once-in-a-lifetime pandemic in the past two years, having lost its first building in a fire, but there was little doubt that the 2019 floods inundated the business by more than a foot, the family said. increase. Challenges that businesses have faced in the past.
The Pazer family still remembers the natural disaster vividly. That year, on September 12th, she was due to have her annual work party at Patzer Woodworking's showroom, but Mother Nature had other plans.
Rather than walking into the showroom with a platter of appetizers and treats waiting for employees to celebrate another one-year anniversary, the Patzers didn't even have access to the building. It was a morning downpour with 8-10 inches of rain.
"The water was higher than the windows of the building. Computers were floating. Someone had a boat floating by the building," Tom said of the images he recalls from the flood. "We lived in a partial showroom where he lived for three years."
Unlike building fires, insurance did little to cover flood damage. The family-run company was forced to pay for much of the damage repair and equipment replacement out of pocket.
According to the Federal Emergency Management Agency (FEMA), 40% of small businesses will not reopen after a natural disaster causes extensive damage. FEMA data shows that 25% of businesses that reopen after a natural disaster close within a year of him.
The Patzer family business is bucking this trend as it enters its third year since the 2019 floods.
"I had a lot of sleepless nights," Ryan said of the night after the flood.
The flood severely damaged one of the most important pieces of equipment at the heart of Patzer's production. For three days after the flood, the wood cutting machine got stuck and production stopped.
Engineers estimated that the lumberjack had a 40% survival rate once brought back to life, but the manufacturing team managed to fix the machine when it got stuck until a new lumberjack arrived months later. With equipment damaged and equipment destroyed, the crew of a wood craft manufacturer was making a comeback by transporting the product to customers.
Neppl praised the dedicated team's ability to improvise and address post-flood challenges as the key to helping Patzer Woodworking rise from the wreckage.
"Every employee is involved in their work. It really takes a team effort to make a business like this successful for so long," she said. "Without them, we wouldn't have survived."
When community members and business leaders gathered at the showroom on Thursday for the company's 40th anniversary, there was no sign that the room had been in more than a foot of water just three years ago.
Through some of the challenges that Patzer Woodworking has faced over the years, Tom has always instilled a belief in overcoming obstacles with the words family often hears: 'It always works out'.
"He always says that when we worry about everything," Ryan said of his father. "And it has."
window.fbAsyncInit = function() { FB.init({
appId : '333537111744287',
xfbml : true, version : 'v2.9' }); };
(function(d, s, id){ var js, fjs = d.getElementsByTagName(s)[0]; if (d.getElementById(id)) {return;} js = d.createElement(s); js.id = id; js.src = "https://connect.facebook.net/en_US/sdk.js"; fjs.parentNode.insertBefore(js, fjs); }(document, 'script', 'facebook-jssdk'));



Source link