Philadelphia – Dan and Jess Duffy's love of Philadelphia sports flows through Dan's art into the Flowtown home, paying tribute to the Phillies in particular.
It's not just because of his love for the team, but because he believes the team has started their own story.
"I want to salute the 2008 Phillies. Thank you Brad Ridge," Dunn said.
Dan graduated from college in the spring of 2008, but says he's still living the "college life" of his late 20s.
"It was an Animal House movie in Conshohocken, with all the rugby buddies in it. I certainly wasn't rushing anywhere," Dunn said.
More stories from the Phillies
He met his future wife, Jess, through a date at the Bahama Breeze, and they quickly bonded over their love for the Phillies. Their dates consisted of watching a game together and reviewing afterwards.
They watched the World Series together that year, and their victory reignited something in Dunn. He says he wants to go back to his artistic roots.
"I just felt so happy and inspired that I wanted to write down all the games, dates, opponents and scores for the entire season to see if I could create an image." If so, I don't know if I'll end up making something."
Jess was a total proponent of spontaneous creation. They made a print of his "word art" and brought it in a cooler to the 2009 Phillies home opener in an attempt to sell it to Tailgaters.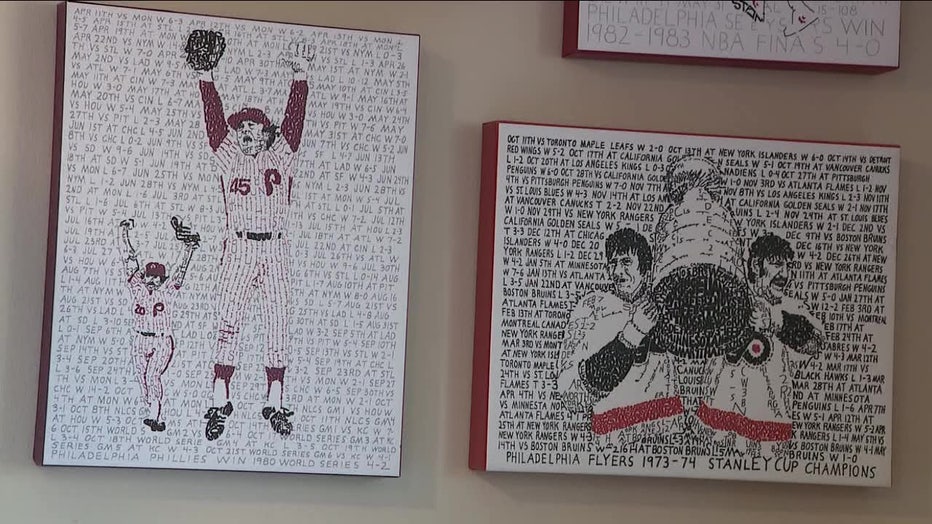 They started selling Lot K, selling for $10 each.
"We had a cooler that just wrapped the prints up and held them on with rubber bands," Jess said. "I didn't even know how to present it to people. Some people paid with beer."
"It was really Philadelphia folks. They were like, 'Hey, you gotta do Tug McGraw,' so I have a set of both championships." Dunn said, "Their trust in me and their desire to see more work is what made me make sure I wanted to continue."
That's exactly what he did.
After about two years of cool sales, he got an MLB license and expanded his work, but at the same time he had to create for every team.
"I had to start doing the Yankees and the Mets. Just pick my nose and do it," Dunn said.