When Turning Tables Eatery & Tavern opened in August at 1034 N. Vel R. Phillips Ave., it marked the launch of a first-of-its-kind restaurant concept which aims to turn the tables on inequality in food entrepreneurship in Milwaukee. It will do so by providing mentorship and hands-on training for local food-based entrepreneurs.

On Tuesday, Sept. 13, Turning Tables launched a fundraising campaign with the goal of raising $100,000. The funds from the campaign will be used to upgrade the Turning Tables restaurant space, support staffing and marketing initiatives and fund efforts which the mission and programming that Turning Tables offers. 

Up to $10,000 in funding will be matched by the Jru & Lauren Social Impact Fund. Supporters can donate at a variety of levels, from $25 to $100,000. Each level will offer sponsorship perks, along with the gratification of backing a program that will enhance the community, culture and food scene in Milwaukee. [Donate here]

Even without a marketing budget, the Turning Tables Entrepreneur program has accumulated a waiting list of over 1,000 food entrepreneurs who have expressed a need for the business acumen and training that the program provides. The fundraising campaign will assist them in meeting the needs of as many of those entrepreneurs as possible.

Currently, there are seven entrepreneurs who will be a part of the inaugural program at Turning Tables. These are their stories and a peek at the foods they will be debuting at Turning Tables Tavern & Eatery in the coming months.

Delaric Johnson

Unkle Dee's Kitchen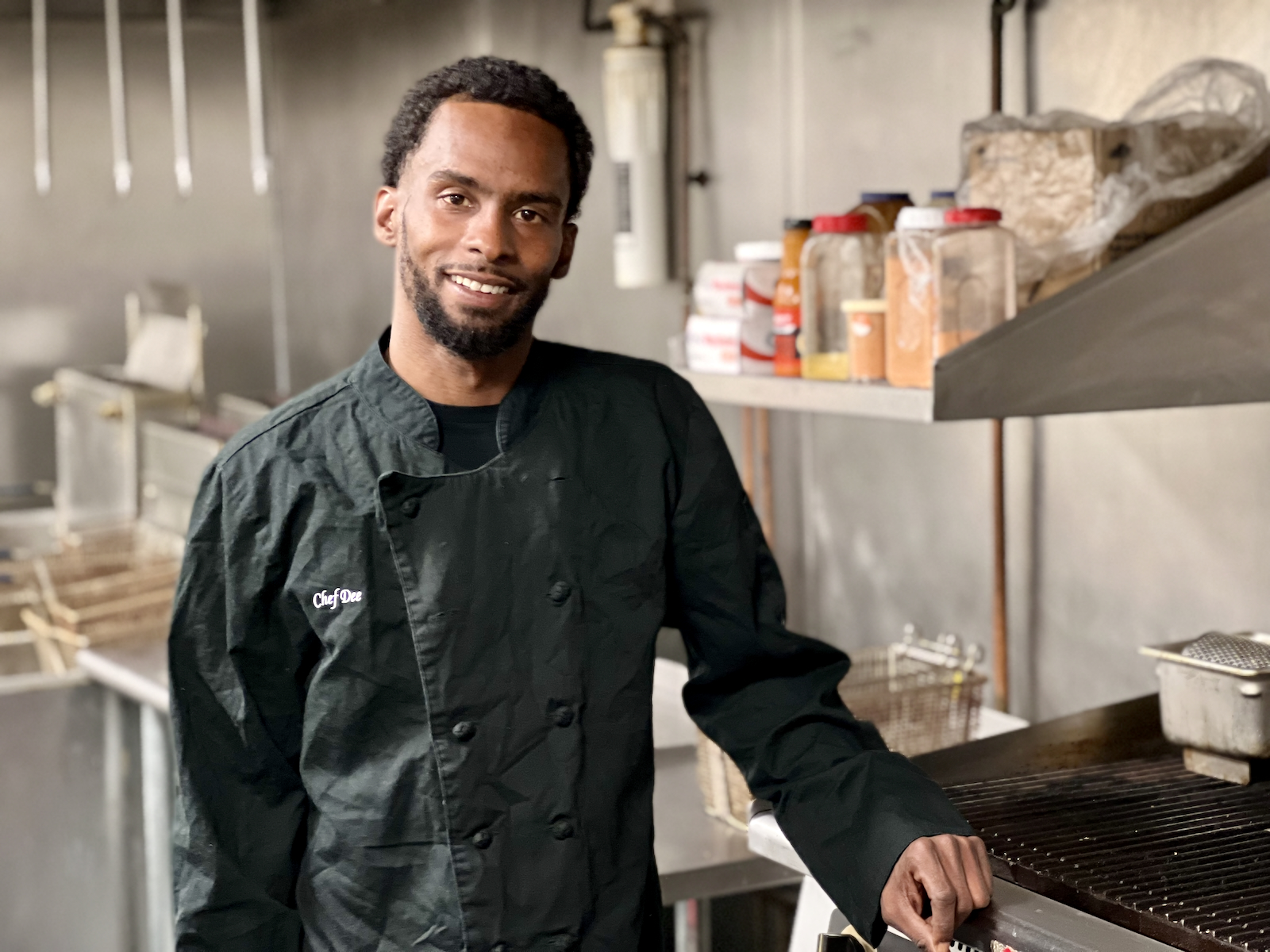 Delaric Johnson started cooking when he was seven years old. He began by making pancakes, eventually moving on to bake cookies, cakes and brownies. By high school, he'd branched out and begun cooking more savory dishes. Along the way, he fell in love with cooking. Eventually, he began to see it as a legitimate career.

"When I started taking cooking seriously, I made up my mind that I would go to culinary school," he says. "So, I enrolled in the culinary program at MATC so that I could earn my chef credentials." 

But Johnson's journey hasn't been without hiccups. Last year, he was in the wrong place at the wrong time. He got shot and his femur was shattered. The one thing that gave him comfort as he recovered was cooking.

"Cooking was something that calmed me," he says. "It made me happy and kept me from being depressed. I love feeding people. It makes people happy."

Johnson is currently enrolled in the culinary program at MATC. He's also working as head chef under Jervel Williams at Turning Tables. Inspired by cajun and creole cuisine, Johnson will be showcasing some of his signature dishes including shrimp and grits and red velvet waffles during Turning Tables' brunch. 

What he hopes to gain from the program: "My goal is to be known as the best cook in Milwaukee. I'm at the beginning of my journey, so there's a lot I need to know. So I've been trying to take things step by step and get as much experience as possible. I'm also hoping I can find investors who see my vision and like what I'm trying to do."

Frederick Coleman

Table 69 Catering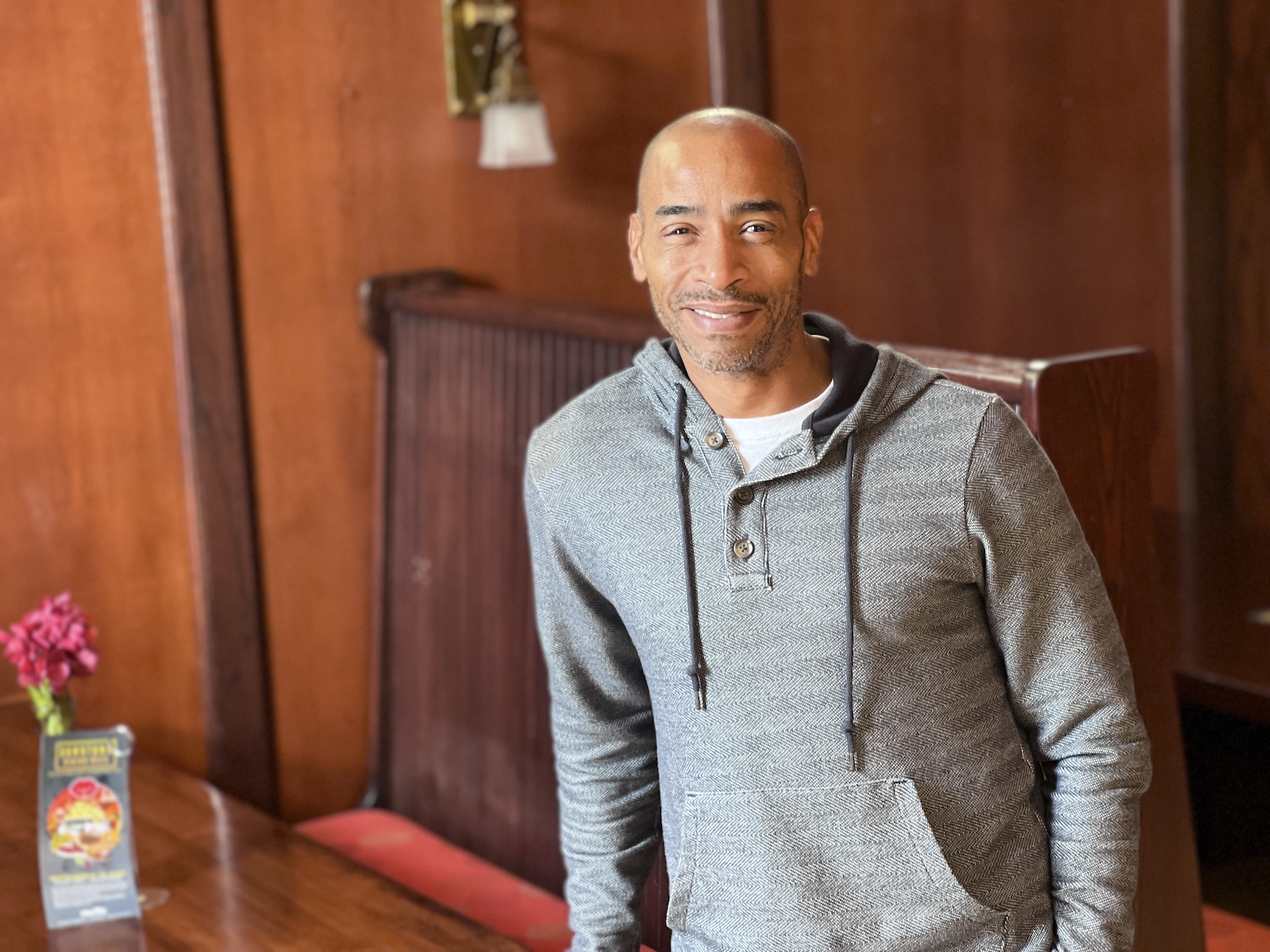 Frederick Coleman's appreciation for food began at a very early age. In fact, his first official job was working for his uncle, who operated a lemonade and french fry stand at county fairs. 

Over time, his view of food changed. When he was in high school, he was an athlete who played semi-pro baseball. As he trained, he changed his diet to be more congruent with training. As his diet became more healthful, he found himself becoming more interested in cooking. 

After he graduated from high school, Coleman was hired as a cook in a private school. That experience prompted him to pursue the culinary program at MATC. He stopped short of completing the program to take a job cooking for the fire department; but the experience fed his desire to make his own mark on the food industry. 

Over the years, he has operated a few different businesses, including an in-home chef service. In 2016, he landed a spot on Master Chef, where he made it into the top 40 out of 27,000 chefs. In 2019, he launched Table 69 Catering, a meal delivery service that caters to folks with dietary needs or restrictions. Currently, he is also working on a cookbook, which is slated to come out at the end of 2022. 

At Turning Tables, Coleman will be lending his talents to the Entrepreneur Program by teaching other cooks things about plating, food safety and other skills he's mastered over the years. 
His healthful, scratch-made fare will also be featured on the menu at the restaurant. Dishes could include items like his popular smoked salmon hashbrowns or even his housemade ginger beer.

What he hopes to gain from the program: "I really want to strengthen my persona on video and glean other skills that will assist me in marketing my business." 

Lyncoyo Ilion

Cooking with Coya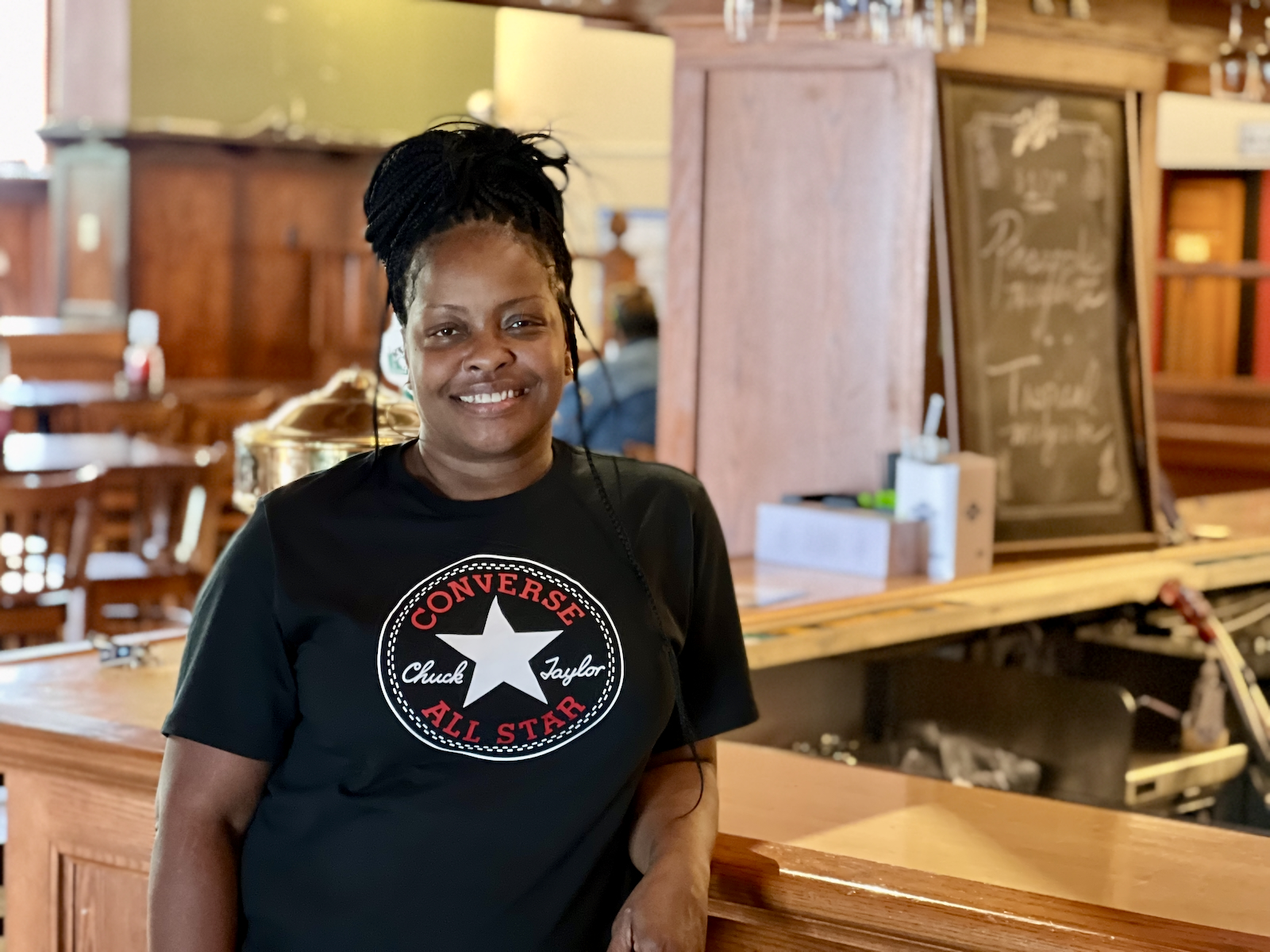 Lyncoyo Ilion says she never really loved cooking. But, having grown up cooking alongside her  her mother and grandmother, she says she developed a talent for it.

When her son Michael Terrell Jr. passed away from a gunshot wound in December of 2019, she says was devastated.

"I was suicidal," she says. "There were literally days that I didn't know how I would make it through the day."

But cooking became a form of therapy. She started a group on Facebook where she talked about what she was cooking and posted pictures. The group grew quickly and ultimately led her  to launch her own full service catering business through which she showcased a variety of dishes influenced by Asian, Italian, Mexican and soul food. Over the years, Cooking with Coya has catered weddings, funerals and a variety of private dinners. She has also hosted cooking classes at the Mequon Public Market.

In 2021, she launched Pick Your Poison, a hot sauce brand featuring five different flavors (strawberry Carolina Reaper, chipotle, garlic pepper, jalapeno pineapple and peach habanero), which are sold through St. Paul Fish Company in Mequon and at the Kujichagulia Producers Cooperative at the Sherman Phoenix Marketplace.

Ilion says she loves to make Asian food, especially things like dumplings and pad see ew. She also has an affinity for Italian food, especially homemade pasta. Those are likely the type of dishes she'll be showcasing at Turning Tables.

What she hopes to gain from the program: "I love Emerald's vision for this space, and I"m excited to be a part of it. I'm really excited to learn more about the restaurant business. I'm still working full-time as an auditor, and I need to determine if this is the direction I'd like to go full time. It's also a really great opportunity to showcase what I do." 

Tequnda Rogers-Goggans

Charlee Boi'z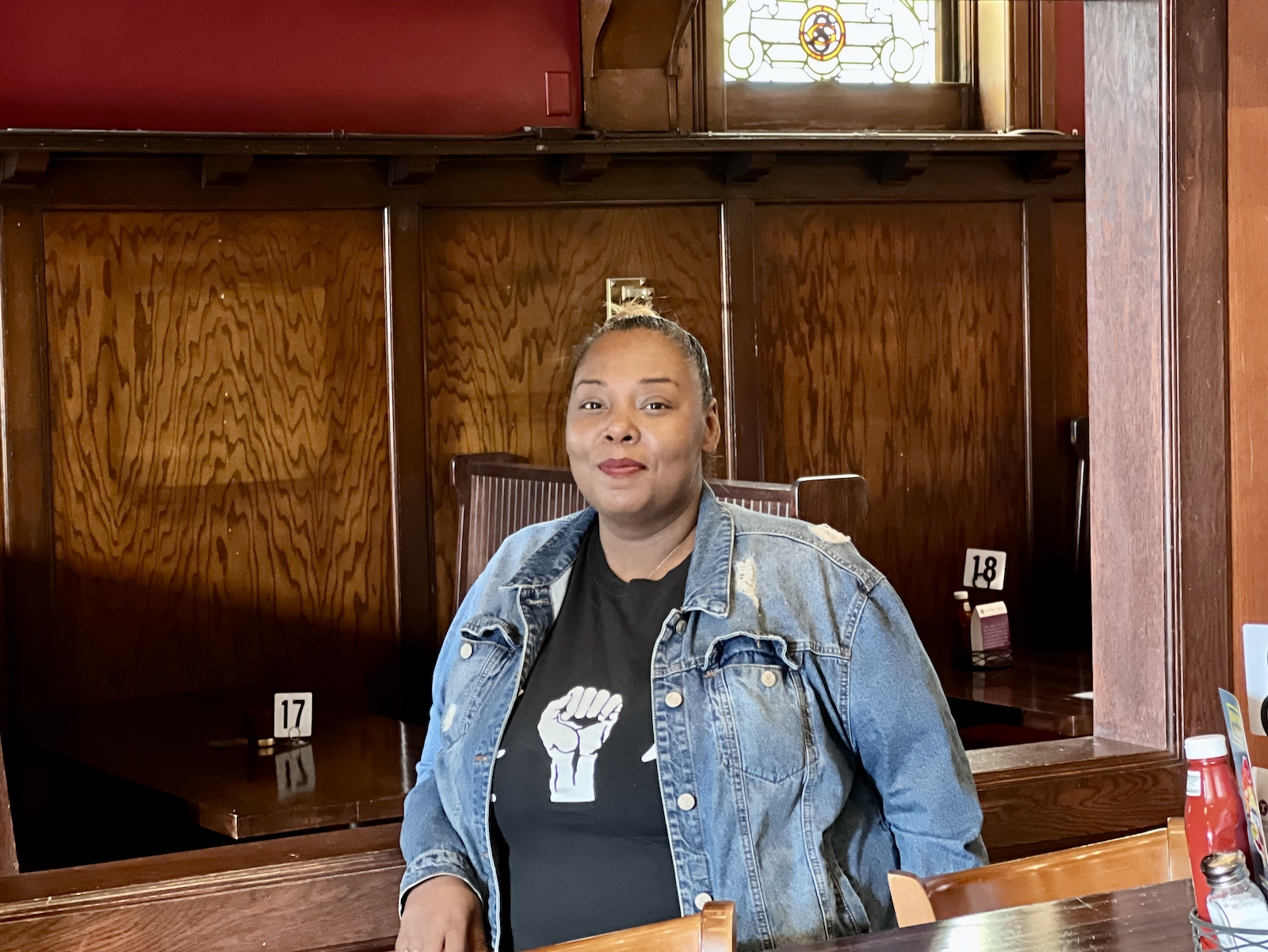 In October of 2021, Tequnda Rogers-Goggans hosted a book release for her autobiography, "Chapter 42" a book she says relays the story of how she grew to become the woman she is today. Its pages are filled with tales from her life and the many challenges she's overcome over the years. Although it wasn't meant to, it also traces her journey to cooking

Among Rogers-Goggans challenges has been balancing her ability to care for her children with holding down a regular job. Her oldest son Charles was born with hydronephrosis. He was put on dialysis when he was 12 years old and for years Children's Hospital became their second home. 

As a result, she says, it's always been tough to hold down a job. For years, as a single mother, she flitted from job to job, working in hotels, car washes and auto repair shops. For a time, she even pursued a nursing degree, stopping just six credits shy of completion. But cooking was a constant, and she found that cooking for others was an easy way to make ends meet.

"But no matter what was going on in my life, I always cooked," she says. "I love feeding people. I love getting to know people over a meal. And I love cooking for large groups. I want to feed the world. Cooking is about more than food. It's about taking care of people and feeding people's souls. And no matter how bad my day is, smiling and helping is what keeps me going. This is my peace."

She started her catering business, Charlie Boi'z, last year as an homage to Charles, who passed away in September of 2021. Among her specialties is preparing meals for people who are struggling with diabetes or kidney disease.

Rogers-Goggins calls her cooking style "soul comfort" and she hopes to serve items like  smothered chicken, greens, yams, corn bread and  peach cobbler for guests at Turning Tables.

What she hopes to gain from the program: "I want to finish learning the proper ins and outs of running a restaurant. Ultimately, I'd love to own a little restaurant, maybe a coffee shop or cafe where I could serve sandwiches, soup and desserts and offer catering on the side. And I want to find a way to give back, to feed the hungry or the homeless. I'd also love to be able to teach children how to cook."
Andre Epps

Blue Walters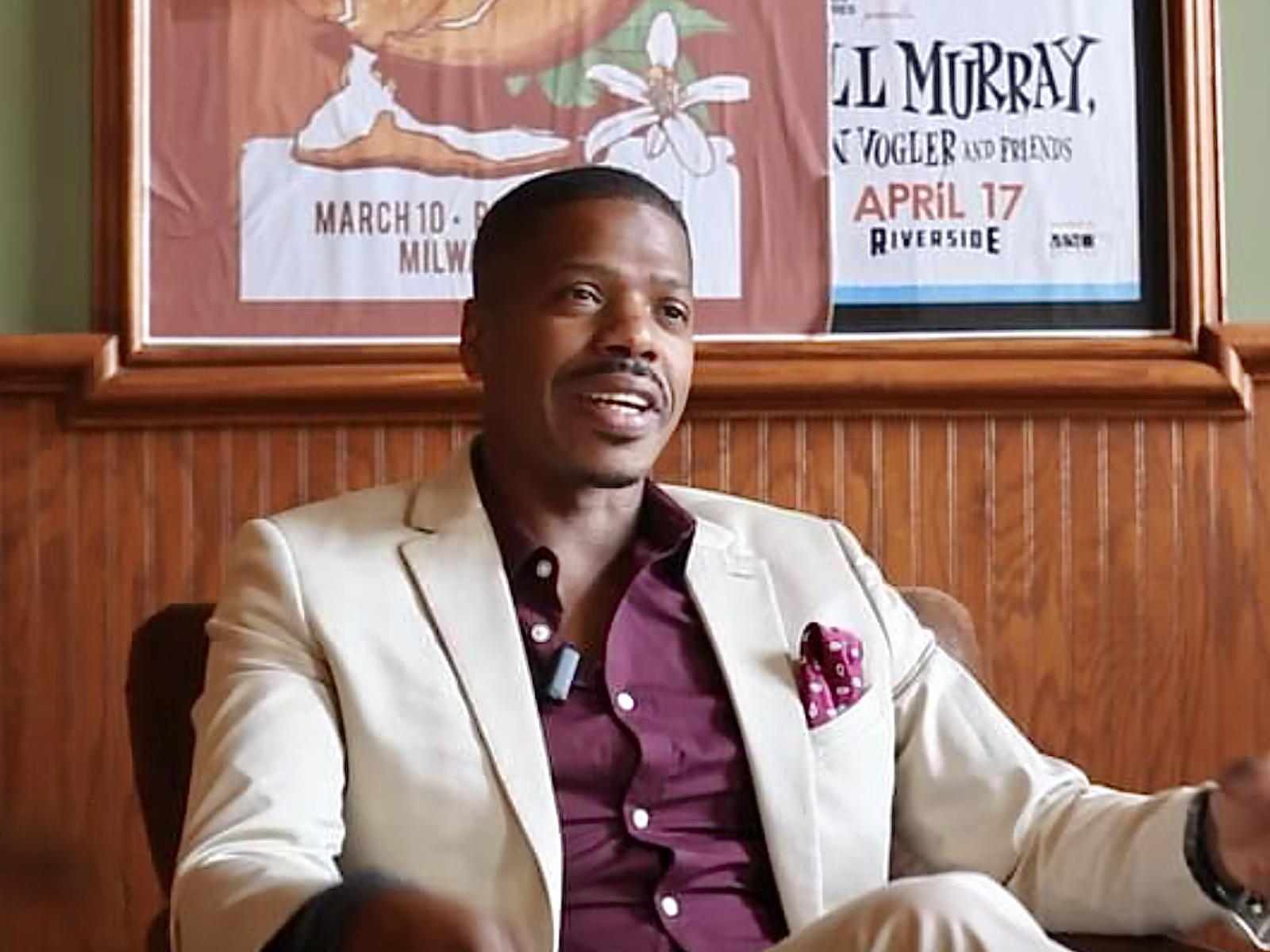 For 20 years, Andre Epps has worked in the warehouse at UPS. But when he's not working, he's in the backyard smoking meats.

"I'm an average cook at best," he says. "But when it comes to smoking, when it comes to that pit, I'm a master."

His passion for bbq was inspired by a budd of his named Walter Blue, with whom he'd spend Sundays watching games and tending the smoker. Over the years, as Epps' skills got better and better, they hatched a plan to launch a food truck together. But before they could raise the funds for a truck, Blue made the decision to move to Memphis to be closer to his family.

Epps was disappointed, but he kept honing his craft, occasionally showcasing his talents by cooking for large groups or catering at schools. Along the way, he sought out wisdom from chefs like Jervel Williams of Mister Bar-B-Que.

 In 2021, when Epps got news that hit him hard. Blue had passed away. After grieving the loss of his friend, he made up his mind that he was going to start a food business in his honor. He still couldn't afford the expense of purchasing a truck for a bbq business. But, in 2022, he launched Blue Walters, a concessions business which made use of equipment he'd acquired over the years. Through Blue Walters, he offers corn roasts, potatoes and other concessions including popcorn and cotton candy. 

"Every time I'm out, I carry Walter Blue with me," he says. 

Epps says he'd love to share his passion for barbeque by offering brisket, chicken wings, pulled pork or ribs along with mac and cheese and greens on the menu at Turning Tables.

What he hopes to gain from the program: Epps says that when Jervel Williams suggested that he join the program, he didn't entirely see himself as a fit. But he did know that he needed more experience with business skills like costing. So, he began attending the classes. "I've gained so much already," he says. "The experience of actually working in a restaurant and learning to take charge in the kitchen has been so valuable."

Fatema Dunomes

The Shack MKE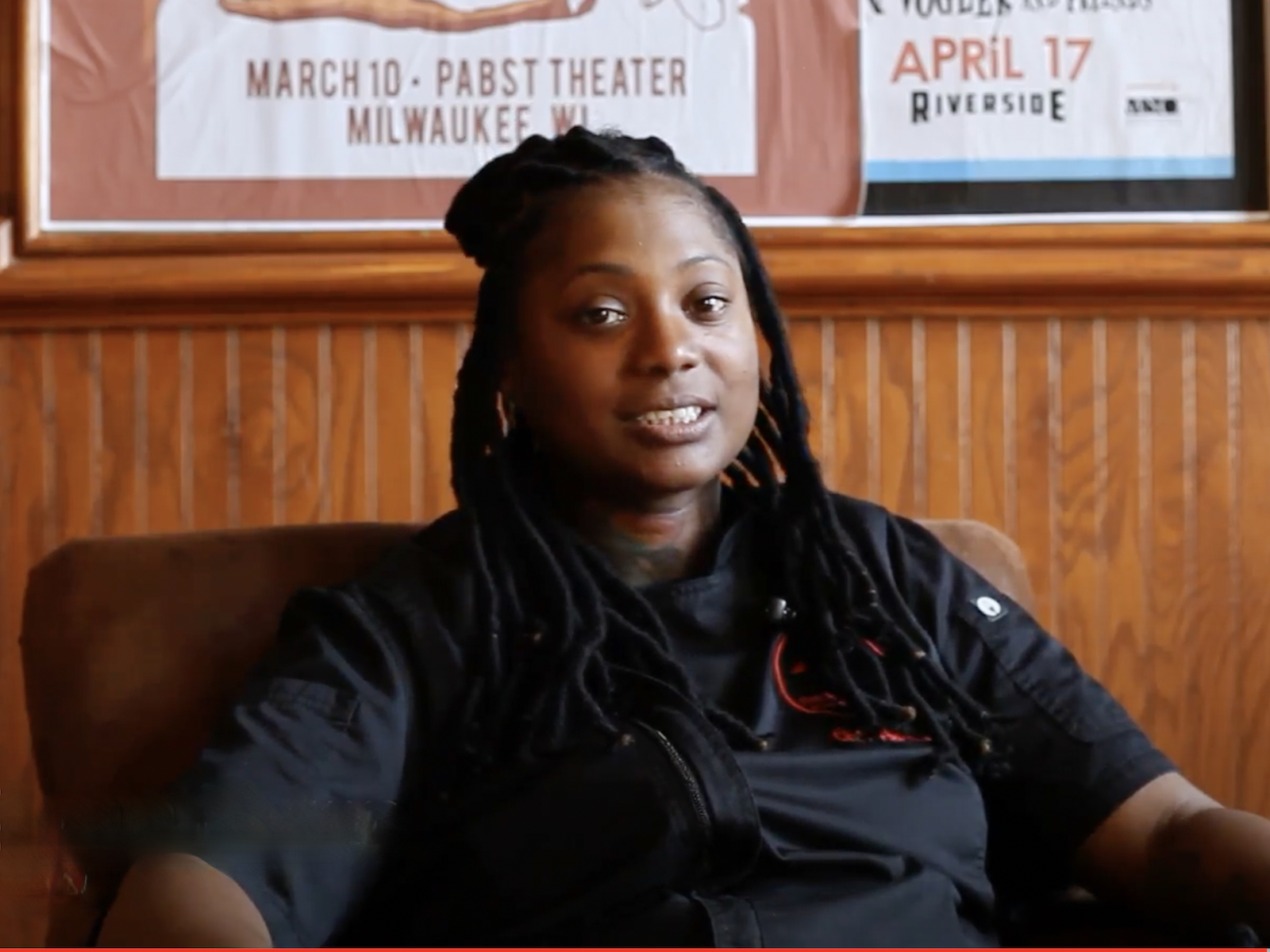 In 2018, Fatema Dunomes was working as a lead at the Cargill Cocoa & Chocolate plant. One day, as she surveyed the cafeteria during her lunch hour, she saw that there were a few people who weren't eating lunch. As a friendly gesture, she bought a pizza to share with them. 

As weeks went on, she began cooking at home and bringing enough food to feed more than just herself at lunch. People loved what she brought and Dunomes realized that taking care of people and nourishing them with food was something she enjoyed.

"I realized that food could change peoples' lives," she says.

The more she thought about it, the more she realized that cooking was her safe place. Preparing food was like a form of meditation. So she began researching what it would take to start her own business. She also connected with Anomalous and Blake Campbell of Anomaly Catering to glean advice.

In 2019, she established The Shack MKE, an LLC named in homage to the legendary chicken shack, which served up classic finger foods including her signature crispy chicken wings and haystacks, a creative take on nachos made with potato chips which had been a highlight of her childhood.

"My Uncle Barry and Aunt Barbara had a farm in Marshfield," she says. "And all the kids in my family would go up there and spend the summer helping on the farm. My aunt and uncle were vegan, so we ate all sorts of vegetables while we were there. And on movie nights, we'd make haystacks. They were like nachos made with potato chips layered with tomatoes and beans and vegan sour cream and all sorts of things. And our eyes were always bigger than our stomachs, so we'd stack them up and eat them together. Everybody had beans on their faces… those were the best days of my childhood."

As her business grew, Dunomes branched out, offering items like lamb chops, pasta and steak. But it was her signature sweet and spicy wings that took off, building her an audience of loyal customers and prompting her to explore the process for getting her  sweet and spicy sauce on retail shelves.

Ultimately, she says, her plan was to open up a food truck. So when Campbell made the suggestion that she look into the BizStarts program, she decided to enroll. That's where she met Emerald Mills, who contributed to the program by giving a talk on branding and marketing. After the class, Mills invited her to lunch, where she introduced her to the Turning Tables program.
You can sample The Shack MKE's sweet and spicy wings at Turning Tables on Wednesdays from 3 p.m. to close.

What she hopes to gain from the program:  "I want to know the restaurant business in depth. I want to be able to get the experience I need to start my own restaurant, and I want to get to the point where I can inspire and help other people who want to pursue their dreams."

Seidah Reed

Eclectic Soul (AKA The Cupcake Queen)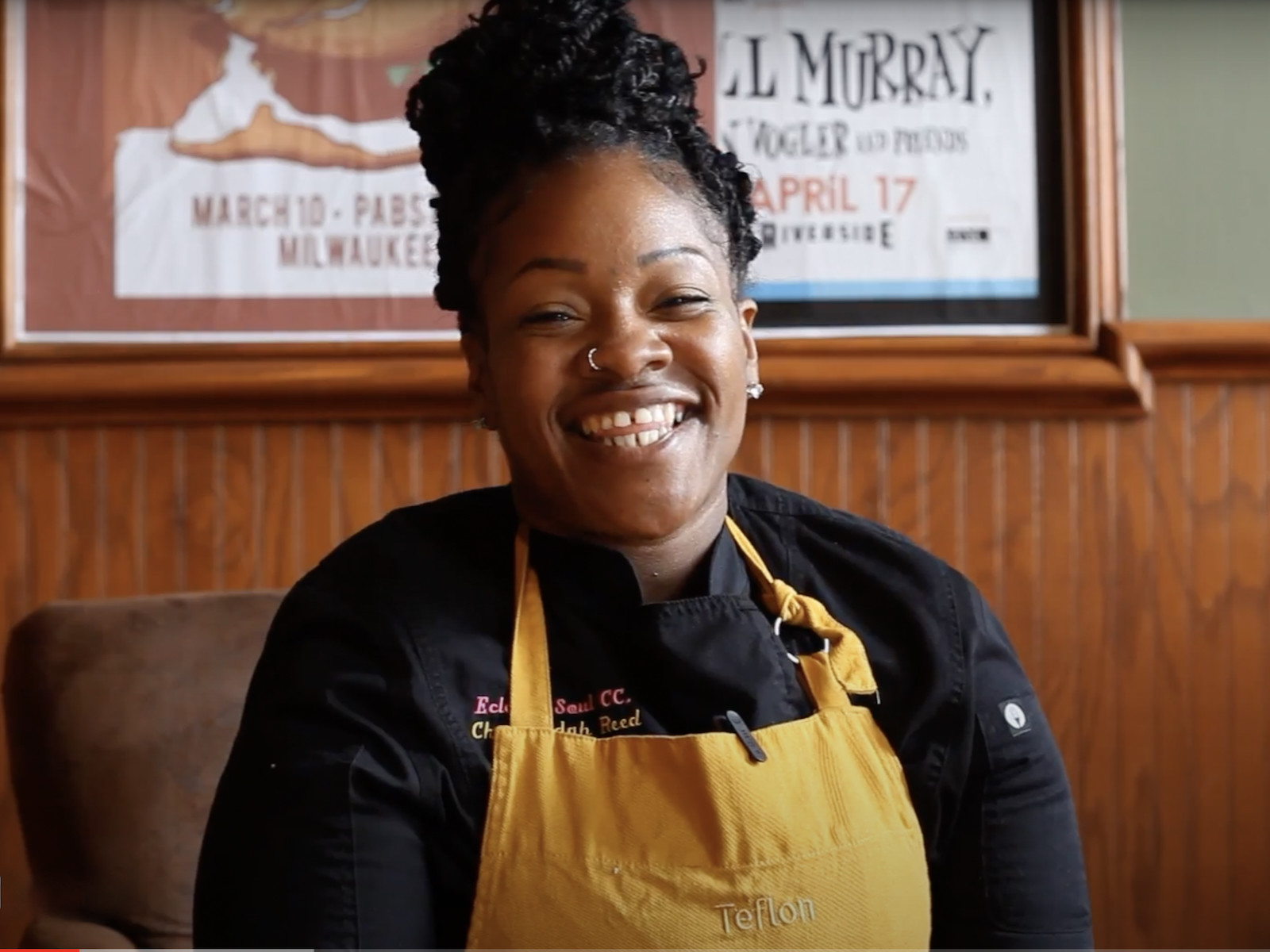 Michigan native, Seidah Reed, originally aspired to become a nurse. So, she pursued two years of nursing education at a community college. But when she ended up on a waiting list at the nursing school she wanted to get into, she started thinking about other things she might want to do. Ultimately, she settled on a career that she knew would impact peoples' lives and make them happy: cooking. So she switched gears and enrolled in the culinary program at Washtenaw Community College in Ann Arbor, Michigan.

"I've always cooked," she says. "I watched my mother cook when I was young, and I blew out at least three or four Easy Bake ovens while I was growing up. So, cooking made sense."

Her nursing background also gave her the background knowledge and motivation to reinvent the recipes that she grew up cooking and eating and recreate them with health in mind. 

After graduating and running a small catering operation in Michigan, she heeded a call from a family member, who invited her to come launch her career in Milwaukee. What began as just a visit ultimately led to her falling in love and putting down roots in the Cream City.

Over the years, she's taken on a variety of industry jobs – both to learn more about her craft and to make ends meet. Early on, she worked for McDonald's and Sodexo at Marquette University. Later, she took on a catering chef position with Levy Restaurants and the Milwaukee Bucks and worked as the executive chef for Northwestern Mutual. Currently, she works for Levy as a freelance chef, traveling to various venues to assist with events. 

On the side, she continued building her catering business, Eclectic Soul, which offered a diverse selection of dishes influenced by cuisines including Mexican, Italian, Asian and Caribbean. Along the way she also developed a reputation for her desserts, eventually earning the moniker "The Cupcake Queen."

As her reputation grew, she leaned into the popularity of her cupcakes and began getting creative. In addition to traditional flavors like vanilla, chocolate and red velvet, she also began creating recipes for  apple pie, banana pudding and peach cobbler cupcakes. More unexpectedly, she also began playing with the idea of savory cupcakes, offering flavors like spaghetti casserole, meatloaf and mashed potatoes and hot chicken. People loved them.

"It's been a lot of work. And I've found that no matter how established you are, it can be really hard to get to the next level. But I've also learned that nothing that's worth having comes easy. And I do this for my kids. They have watched me working over the years, and I see my dedication flowing through them. It makes me happy to see that when they take on projects, they keep going and they don't give up."

As time moves forward, Reed will be showcasing both sweet and savory cupcakes on the menu  at Turning Tables.

What she hopes to gain from the program: "I'm hoping to gain exposure, experience and additional education. I'm a big believer in learning all I can. You can never learn too much. I'm also excited to build relationships with others in the industry."